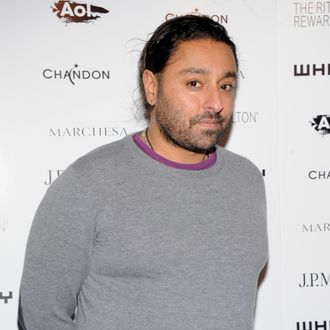 Photo: Patrick McMullan/Patrick McMullan
Vikram Chatwal — hotelier, ex-model, rumored one-time Lindsay Lohan paramour,  and no stranger to nightlife — let the Wall Street Journal take a look inside his Soho Mews apartment, which was originally "just a big white box. It had very little character," according to his decorator. There are plenty of decorating tips to be gleaned from the tour, if you want to make your own boxy apartment a little cozier.
First of all, art is vital to making the place pop — tasteful nudes, perhaps? Chatwal went with one of Pamela Anderson.  But it won't feel like home until you've got pictures of the people you love, and that's why Chatwal added "his 'wall of self-realization,' featuring framed magazine articles of himself as well as photographs with him and his father with heads of state like Bill Clinton."
But that's not the only way to make a place feel homey. For instance, find some small object you love that perhaps has a special significance for you, and echo those visual cues wherever you can. Make it a subtle theme.
Inspiration also came from Mr. Chatwal's 150-foot yacht, Fathom, which he said he spent a year and a half designing with Mr. Zeff. Some of the shiny surfaces, including a mirrored wall in the living room with an invisible, built-in television screen, are reminiscent of the boat's sleek design.
That brings us to the final thing we learned from the article about how to make your home more impressive — if you don't have something, just say it's there, but invisible. 
"See" you on the Daily Intel "yacht" this weekend!
Related: Vikram's Big Fat Sikh Wedding