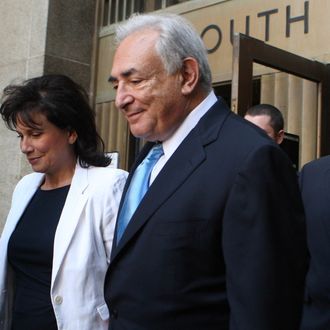 Photo: Daniel Barry/2011 Getty Images
Anne Sinclair, the loyal wife of "The Great Seducer" and ‫chaud lapin‬ Dominique-Strauss Kahn, will be the editorial director of the Huffington Post's French partnership with the newspaper Le Monde, according to an invite for the website's introductory news conference. The hiring of Sinclair, an heiress and former Barbara Walters–type television journalist, is a classic Arianna Huffington attention-grabber, made to get the world chattering about the Le Huffington Post launch. Success!
But critics are already dismissing the move as all headline and no substance: "Anne Sinclair is no longer a journalist," quipped a Le Monde editor, questioning Sinclair's objectivity in light of the Strauss-Kahn rape allegations.
Although surely she learned a thing or two about flooding the online zone from news coverage of her husband's case: The Huffington Post's index for "Dominique Strauss Kahn Sex Scandal" is a full five pages long.
Related: The Womanizer's Wife [NYM]