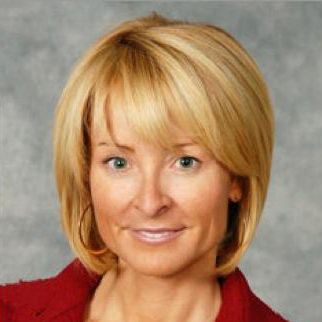 Rumored to be starring in Step-Up 7: The Boardroom.
Photo: Lehman Brothers
Erin Callan, the former CFO of Lehman Bros., seems to have found her bliss post–financial meltdown. She met — and shacked up in East Hampton with — a strapping New York City firefighter named Anthony Montella. And now he's made an honest woman of her. The two were married in a ceremony that didn't include any "recognizable Wall Street figures," according to DealBook, which found a trove of photos of the event online. What it did include was inspired booty-shaking.
After dinner there was dancing, some of which was raucous and included break dancing by the bride and groom. In one photo, Mr. Montella is crouched low to the floor, palms up, as Ms. Callan hovers above him against a backdrop of jubilant guests.
Get it, girl. Truly, the photos of this are a delight. But also bring up an important question: What other Wall Street execs have secret dance-filled lives?  Can Dimon dougie?
Previously: Erin Callan Is Living the Dream