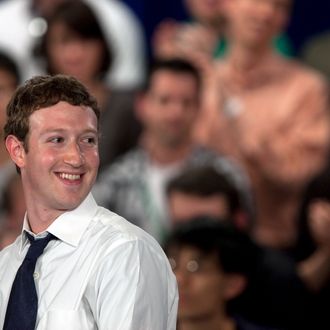 Money.
Photo: Bloomberg/2011 Bloomberg
The $5 billion preliminary IPO prospectus that Facebook will reportedly file on Wednesday seeks about half the funding that experts speculated the social network might attempt to raise. But the Times notes that two other Internet companies that went public last year, Groupon and Zynga, initially sought to raise smaller amounts before raising their targets based on investor demand.

Some perspective: "Should Facebook expand the size of the stock sale to that expected $10 billion, the I.P.O. will be the biggest technology offering in history, according to data from Thomson Reuters," the Times reports.
As expected, the social networking giant chose Morgan Stanley as the prestigious "lead left" underwriter (where its name will appear on the prospectus), a credit to Morgan's market-leading position in Internet IPOs, IFR writes. Morgan Stanley arranged the Groupon and Zynga IPOs. Goldman Sachs had also vied for lead status. Facebook hired them along with three more bookrunners: Bank of America Merrill Lynch, Barclays Capital, and JPMorgan.
And now the compulsory reference to Sean Parker and The Social Network: "A million dollars isn't cool, you know what's cool? A billion dollars!"