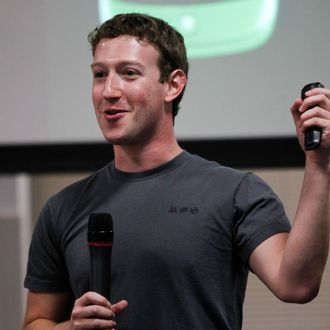 Photo: Kimberley White/Getty
The wait for the Internet's most highly anticipated initial public offering is coming to an end, at least as far as paperwork is concerned. Or it could be a few more weeks! Either way, a lot of people are getting quite excited about Facebook Inc., according to The Wall Street Journal, which says the IPO filing could happen as soon as Wednesday. The same report says that Mark Zuckerberg's company is "close" to choosing Morgan Stanley as the lead underwriter for the IPO, which will likely value the social network between $75 billion and $100 billion, with hopes, as previously reported, of raising up to $10 billion.
Even if Goldman Sachs, which has been courting Facebook hard, gets snubbed for the lead position, it will likely "play a significant role in the deal," the Journal reports. Such massive numbers would put Facebook fourth among U.S. companies with huge IPOs, after Visa, General Motors, and AT&T. Facebook could end up about as valuable as McDonald's.
Practically salivating at this point are the venture capital firms that invested relatively early in Facebook, with Accel Partners potentially earning a stake as high as $9 billion — a 1,000-times return on their initial investment.