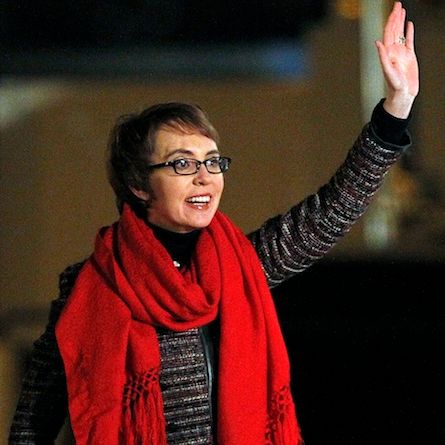 On the one-year anniversary of the massacre in Tucson, where nineteen were shot and six were killed, Congresswoman Gabrielle Giffords — who was shot through the head — bravely stood before a large crowd to recite the Pledge of Allegiance at a vigil in the victims' honor. Giffords needed help from her husband, Mark Kelly, to put her right hand above her heart, after which she "enthusiastically recited the pledge, her voice strong and demeanor positive, before leaving the stage to applause," reports CNN.
The vigil on the campus of the University of Arizona closed a day of remembrance for all the shooting victims. 
"She said that she's sad about the folks that have been lost, that it's good to be back here in Tucson, and that it's important to do this — important to think about what happened on Jan. 8," Kelly said of Giffords' return to the city.
On Saturday, Giffords also visited the Safeway supermarket where she held the "Congress on Your Corner" event last year, where 23-year-old Jared Lee Loughner opened fire on a crowd that morning. Loughner is facing the death penalty if convicted on murder charges. Giffords' chief of staff, Pia Carusone, said that it was the congresswoman's idea to return there.
"It's a very intense feeling to stand in the space where six people lost their lives … and her life changed," Carusone, who was there with the congresswoman, told CNN. "Some memories started to come back."
A transplant from New Jersey, 79-year-old Phyllis Schneck was among those killed. Reverend Andrew Ross spoke for Schneck, who was one of his congregants.
"I remember just shaking and as I shared with my congregation, my immediate response was anger, in fact rage, that someone would once again do this to a member of our flock," Ross said. "And so it's good for us to be honest and admit it's not easy remembering this day. We have to be honest about that."
In the weeks that followed the tragedy, a lot of the anger, rightly or wrongly, was directed at the often vitriolic political discourse in Congress and in the media. Senator Mark Udall, a Colorado Democrat and a friend of Giffords, referenced the subject and sentiment on Sunday night when he spoke on her behalf, saying that she was always willing to work with others to solve problems.
"The goal isn't bipartisanship, it's results," Udall said. "But bipartisanship is the only way to get results. … In the end, we're not enemies, we are fellow Americans."
Related: What Would Gabby Do?
One Year After Giffords Shooting, Gun Sales Soar