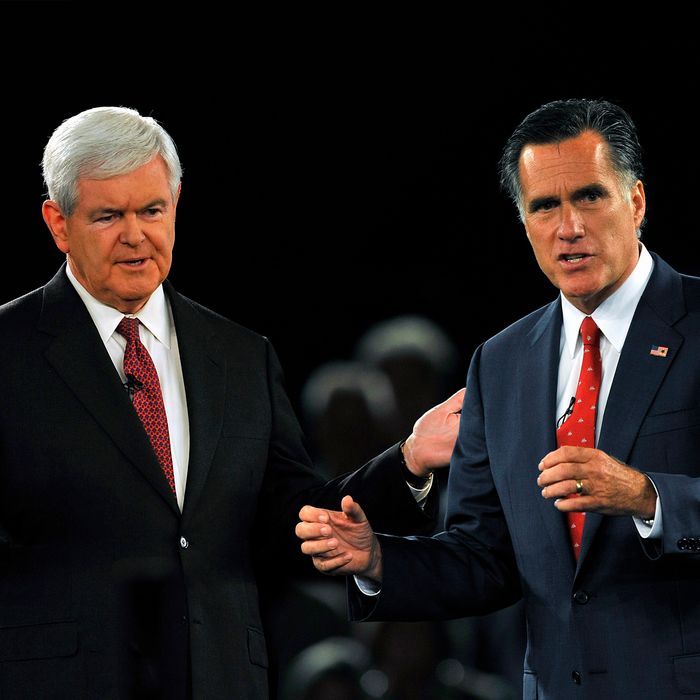 The "good Bain, bad Bain" showdown continues.
Photo: Photos: Stephen Morton/Getty Images
The last few news cycles since the Republican primary circus moved to the Palmetto State have swirled around the 28-minute documentary attacking Romney's Bain Capital days that was released by the pro-Gingrich Super PAC Winning Our Future, which is funded with millions from totally unaware Vegas billionaire (and Gingrich pal) Sheldon Adelson. Though considerably longer than your average political ad, this anti-Romney screed isn't much different — that is, it's full of errors, three of which the Times lists in an article today. (The Washington Post's Fact Checker gave the film, titled King of Bain, four Pinocchios, the worst score possible.) Although it's not officially created by the Newt Gingrich campaign, Republican backlash against the ad forced Gingrich yesterday to call for it to either be pulled entirely from the air or edited for accuracy.
In response, Winning Our Future has reached out to the Romney campaign for help in righting the film's wrongs, although it is asking — presumably fishing for more ammo — that Romney reveal when he gave up his controlling interest in Bain Capital and when he last got a payout related to one of the firm's investments. That's unlikely to get a response.
Despite the charges of anti-capitalism from some on the right, Gingrich is, as the Times put it, "potentially getting to have his cake and eat it too, reaping the benefits of attacks that have been nationally branded as false while publicly distancing himself." And the ad does seem to be helping Gingrich in South Carolina, where the unemployment rate still hovers near 10 percent — according to RealClearPolitics' poll average, Romney's lead in the state is now less than five percent. As for Winning Our Future, it still has the money and the intent, it seems, to keep the pressure up on Mitt Romney, releasing two new ads in South Carolina tomorrow, one of which contests Romney's claim that Bain Capital created 100,000 jobs under his leadership.
But there are signs that the media vetting of Romney's career at Bain may be moving on to the backlash-to-the-backlash stage. Take this headline from the Times yesterday: "Town, Cast as Romney's Victim, Says, 'Huh?'" The town in question is Gaffney, South Carolina, where Bain Capital closed a photo album factory, employing 150 people, in 1992.
Related:  Pro-Gingrich Super PAC Demonizes Romney and Bain in 30-Minute Documentary