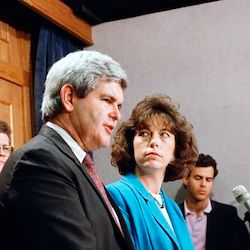 Newt and Marianne in 1989.
ABC News has a two-hour interview in the can with Newt Gingrich's second ex-wife, Marianne, that may blow up Newton's presidential campaign only two days before the South Carolina primary. "Marianne Gingrich has said she could end her ex-husband's career with a single interview," writes the Drudge Report, which first reported (and probably sensationalized) the interview.
The Daily Beast's Howard Kurtz gave a more tempered assessment of what she may reveal on ABC's Nightline. "[Gingrich's] second wife does not say anything in the taped interview with ABC News that she hasn't said in previous print interviews." But what's compelled Marianne, Gingrich's wife of nearly twenty years whom he ditched by telephone when he was shacking up with wife No. 3, Callista, to speak now? Revenge?!
According to Drudge, the interview has caused infighting at ABC News as to whether it's fair to air it right before an election. (An Associated Press source says the interview with Brian Ross is tentatively scheduled to run on Thursday.) "ABCNEWS suits determined it would be 'unethical' to run the Marianne Gingrich interview so close to the South Carolina Primary, a curious decision, one insider argued, since the network has aggressively been reporting on other candidates," writes Drudge, who suggested that the interview would air on Monday following the primary.
Buzzfeed has gathered some of what Marianne may say based on previous interviews:
On his ethics: "He believes that what he says in public and how he lives don't have to be connected. If you believe that, then yeah, you can run for president."

On his affair with Callista: "I know. I asked him. He'd already asked her to marry him before he asked me for a divorce. Before he even asked."
Newt has attempted to soften the blows before with religious appeals. "I was doing things that were wrong, and yet I was doing them," he told the Christian Broadcasting Network. "I found that I felt compelled to seek God's forgiveness. Not God's understanding, but God's forgiveness."
Drudge says that Newt canceled a press conference on Wednesday to get a handle on the situation. And in damage-control mode, Gingrich's campaign released a note from his daughters to ABC News concerning the Brian Ross interview:
The failure of a marriage is a terrible and emotional experience for everyone involved. Anyone who has had that experience understands it is a personal tragedy filled with regrets, and sometimes differing memories of events.

We will not say anything negative about our father's ex-wife. He has said before, privately and publicly, that he regrets any pain he may have caused in the past to people he loves.

ABC News or other campaigns may want to talk about the past, just days before an important primary election. But Newt is going to talk to the people of South Carolina about the future- about job creation, lower taxes, and about who can defeat Barack Obama by providing the sharpest contrast to his damaging, extreme liberalism. We are confident this is the conversation the people of South Carolina are interested in having.

Our father is running for President because of his grandchildren - so they can inherit the America he loves. To do that, President Obama must be defeated. And as the only candidate in the race, including Obama, who has actually helped balance the national budget, create jobs, reform welfare, and cut taxes and spending, Newt felt compelled to run - to serve his country and safeguard his grandchildren's future.
Before casting ABC News as misguided and backward-looking, the note indicates that Gingrich's campaign is bracing itself against the charge that he cheated, when the more damaging reveal would be attacks on his character, the kind of remarks she's made against him before. And with a favorability rating of only 28 percent, against an unfavorability rating of 56 percent, Gingrich cannot afford the impact of a televised character assassination by an ex-wife.
Related: Newt Gingrich, Heartbreaker