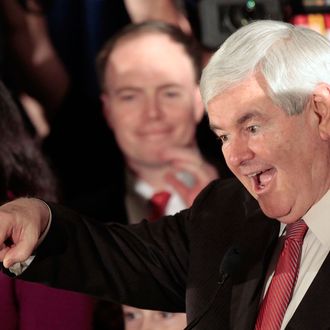 Yay!
Photo: Richard Ellis/Getty Images
Two new Florida primary polls, the first since Newt Gingrich's deeply, profoundly impressive victory in South Carolina on Saturday, have now been released, and it appears that the bounce everyone thought he would receive has materialized as expected. An Insider Advantage poll has Gingrich leading Mitt Romney 34 percent to 26 percent, while a Rasmussen poll has Gingrich up 41 percent to 32 percent. Meanwhile, PPP has also tweeted out much tighter (preliminary) numbers from its polling efforts in the Sunshine and Meth and Old People State: Gingrich and Romney are separated by just two voters after polling 600 people. And what about Rick Santorum and Ron Paul? Nobody cares!
As has been widely noted, Romney will have a head start against Gingrich because, thanks to absentee ballots and early voting in some counties, many Floridians already cast their ballots before Gingrich's South Carolina victory and his subsequent bounce. According to Rasmussen, about 14 percent of all likely voters have already voted, and Romney has an edge of 11 points over Gingrich among that group. That's a nice cushion for Romney, but it won't be much help if Gingrich continues to lead by 12 points among Republicans who have yet to vote.
Fortunately for Romney, Rasmussen also reports that 41 percent of Florida voters could still change their minds, or haven't decided whom to support yet. That's a big chunk of the electorate that's still up for grabs. We're sure many of them will flock to whichever candidate can come up with the pithiest applause lines in the debates tonight and Thursday!
This post has been updated with more information.