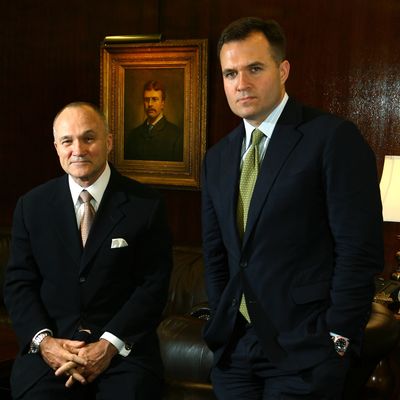 Father and son.
Photo: Ron Antonelli/NY Daily News Archive via Getty Images
The news this morning that the Manhattan district attorney is investigating rape allegations against Greg Kelly might have been extra startling to those used to waking up to his smiling face on Good Day New York, the show he's anchored on Fox 5 since 2008. Kelly wasn't on air today, as allegations surfaced from a woman who claims he raped her after the pair had drinks and then returned to her law firm's offices one night in October. Details of the accusations have worsened since they first broke, with the New York Post and DNA Info both reporting that the woman got pregnant from the alleged assault and then had an abortion. Kelly has denied the accusations.
Kelly, the 43-year-old son of NYPD commissioner Ray Kelly, shares his father's strong jaw, the most recognizable part of a face long familiar to both New Yorkers and a national audience, thanks to his decade-plus run as a war reporter and TV personality. Although no charges have been filed, Kelly's life is suddenly subject to more scrutiny; up until this point, it had been a pretty storied ride.
The second of two sons, Greg grew up dreaming of being a police officer like his father, according to a magazine profile from his alma matter Fordham University, where Kelly majored in political science and developed a knack for reporting. After graduating in 1991, he joined the U.S. Marines and spent nine years as a pilot, totaling 158 aircraft carrier landings and flying over Iraq to enforce the United Nations' "No-Fly Zone."
Broadcast journalism was the next noble pursuit, as Kelly did an anchor stint in Binghamton before returning to New York City to report on politics for NY1, where he covered the September 11 attacks. He joined Fox News channel the next year and reported live from Iraq, bringing the first televised images from the U.S. invasion of Baghdad. "This was a gutsy move, going into Baghdad," Kelly remembered five years later. "We went in by ourselves." Kelly was even hit by shrapnel from a mortar live on the air. "I was shaken up, but about ten, fifteen minutes later we were back," Kelly said. "The wounds were superficial at best." After four extended assignments in Iraq, Kelly worked as Fox News's White House correspondent from 2005 to 2007, while also ranking as a Lieutenant Colonel in the Marine Corps Reserves, before taking the local morning gig.
Working as a journalist in his father's city, Greg has even had to grill his old man a few times. "We assume our roles," Kelly told the Fordham magazine article. "Once or twice he's bristled at my questions. I tend to overplay the formality, but I always have a kicker at the end."
An odd, old fan site lists Greg's favorite movie as Goodfellas and claims he has read "22 biographies on Richard Nixon alone." He also appears to keep a pretty informal Twitter account, writing, for instance, of his Oreo-eating contest with Shaquille O'Neal.
Kelly's romantic life has always remained pretty private. But nearly five years ago, Extra called Kelly "The Most Eligible Anchorman in America," and said the newsman "hopes to settle down with a wife and kids someday." Kelly "likes women who are smart, ambitious and ready for take-off!" according to the puff piece. "She's got to think that I'm funny even if I'm not that funny," Kelly quipped. "I guess I want a girl who is not afraid to go flying someday."