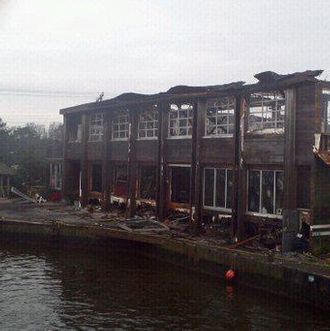 The Pavilion, the famous gay club at the heart of Fire Island's Pines commercial district that burned down in November, will get what promises to be an interesting makeover. Seth Weissman and Andrew Kirtzman's Blesso Properties announced yesterday that they're signing Diller Scofidio + Renfro as architects for the renovation. It's a splashy hire: Diller Scofidio + Renfro's recent work has included the High Line and Lincoln Center's makeover. Elizabeth Diller and Ricardo Scofidio formerly concentrated most of their work on building performance-art sets, and Charles Renfro was dubbed "the naughty architect" by the Observer in a profile last year.
Other descriptors that came up in conversation were "naughty," "pornographic" and "poking and prodding." "Postmodern" perhaps most of all. [Renfro's] projects are about a site evolving with its context, about people moving and living in a space, interacting with it rather than just looking. The High Line, for instance, makes a kind of live movie of 10th Avenue, with the people elevated above the street, along with the pedestrians below, observing each other in equal measure, an ostensibly endless voyeuristic scene. (This is when the word "pornographic" was tossed around.)
And that was for a city park, not a summer-escape pleasure-dome. We're guessing they'll have some fun with the project.
Related: Disco Inferno: A Fire Island D.J.–Firefighter Talks About the Pavilion Blaze
Prince of the Pines