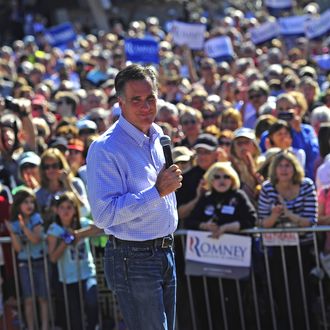 Romney smells victory at Pioneer Park in Dunedin, Florida, today.
Photo: Emmanuel Dunand/AFP/Getty Images/2012 AFP
After departing the Newt Gingrich event outside Tampa chronicled in yesterday's column, Impolitic made the four-plus-hour drive to Miami to catch up with Mitt Romney. I use the terms "made" and "drive" loosely here, since in fact my role in the journey was to ride shotgun and tend the twelve-pack of Presidentes while my caddy/chauffeur/valet — er, photographer — Chris Anderson manned the wheel (and ably so, apart from the sudden swerve off the highway when he believed, mistakenly, that he had spied a satellite franchise of the Bikini Car Wash in Orlando that had captured his imagination the day before). The Romney we encountered first outside the Casa Marin restaraunt in heavily Cuban-American Hialeah and then at a packed rally in Pompano Beach, just north of Fort Lauderdale, was energetic, hopped-up, positively beaming. Indeed, at the latter event, there was a moment when the unimaginable occurred: The Romney hair was slightly mussed.
These expressions of confidence were, of course, entirely appropriate — for if one thing had become certain by Sunday night, it was that Romney was going to defeat Newt Gingrich decisively in Tuesday's primary here. What was surprising was the lengths to which Romney seemed willing to go to run up the score. At the Pompano Beach rally, the former Massachusetts governor devoted nearly a quarter of his eighteen-minute speech to attacking the former speaker. All through Sunday and well into Monday, the Romney press shop continued to flood reporters' in-boxes with hard-hitting, even mocking, anti-Gingrich e-mails with subject lines such as "EARTH TO NEWT: TELL THE TRUTH" and "AN OVERDOSE OF GRANDIOSE." As one Romney aide put it to Buzzfeed's Zeke Miller, "It's not about winning here anymore — it's about destroying Gingrich, and it's working."
Certainly much of the latest polling suggests that this is true. According to surveys that included sampling through Sunday from Quinnipiac, SurveyUSA, and Suffolk University, Romney held leads of fourteen, fifteen, and twenty points, respectively. But with numbers like these floating around, the expectations of a Romney blowout have risen to the rafters. At the same time, however, two new polls, from PPP and Insider Advantage, put the margin at just seven and five points — results that could either prove to be outliers or foretell a tightening that might make tomorrow night a closer-run thing than most political pros expect.
The gaming of expectations is, to be sure, a time-honored electioneering tradition. But in this case the stakes are particularly high. No one doubts that a loss in Florida will severely puncture Gingrich's prospects of being the Republican nominee — and conversely inflate Romney's enormously. But with conservatives from Rush Limbaugh to Sarah Palin to Herman Cain now rallying to Gingrich's defense after his decimation at the hands of the Republican Establishment, and with Newt promising a long and bloody war all through the spring and to the GOP convention this summer, Team Romney understands the importance of the margin in Florida — to the media narrative that emerges post-primary and to the psyches of all the players involved. What they need, in other words, is a result that screams that they have decapitated Gingrich, and then played soccer with his severed head.
What margin will convey that image? At this point, I'd guess the consensus among the political class is that it will have to be in double digits. Anything less will raise questions about how Gingrich — despite being outspent four-to-one in Florida and running a pathetic, at times abominable, campaign here — managed to bounce back at the close. And if by some remote chance Gingrich manages to finish within five points of Romney, the outcome will not just leave him with his noggin on his shoulders but both pissed off and emboldened.