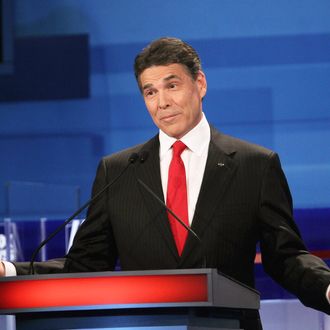 Photo: Scott Olson/2011 Getty Images
Not so well. Not only is Rick Perry now more unpopular in the state of Texas than Barack Obama, but the formerly popular governor may not be able to keep his day job, which he expressed interest in doing last week. Public Policy Polling reports that 62 percent of Texans would prefer someone else for governor in 2014. 
In a separate Dallas Morning News poll, 37 percent of respondents felt less favorable about the governor than they had before the race, and a full 45 percent say the campaign hurt the state's image. "His actions have made it look like people in Texas are absolute fools,"  a poll respondent told the paper. "I always thought he was foolish and then the more he talked, the more doubt he removed." Perry has three years remaining in his term, during which time he will possibly try to speak as little as possible.