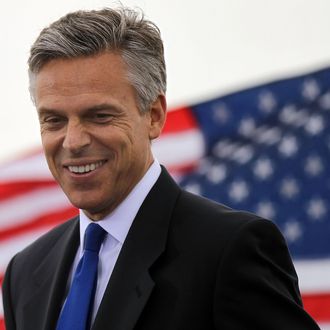 Former Utah Governor, Republican Jon Huntsman takes the stage just before he announces that he will run for the US presidency June 21, 2011 at Liberty State Park in Jersey City, New Jersey. AFP PHOTO/Stan HONDA (Photo credit should read STAN HONDA/AFP/Getty Images)
Photo: Spencer Platt/2011 Getty Images
"For vision and national unity, Huntsman for GOP nominee," headlines the Boston Globe's endorsement of the former Utah governor who completely skipped Iowa's caucuses, pushing his chips all-in in New Hampshire. Calling him presidential and bold and a clear conservative, the Globe notes job growth under Huntsman's tenure as Utah's governor, his support for climate initiatives, and his nuanced foreign-policy vision, among other positives. The editors take a few shots on Romney, too, calling him out for being an appeaser who's merely trying to craft a character that helps him win the nomination.
The paper from Romney's old stomping ground passed on Romney for a presidential primary endorsement before, Politico notes, choosing John McCain in the 2008 race. Nevertheless, a recent Suffolk poll has Romney up big in the Granite State, with 41 percent of likely voters in the January 10 primary. Ron Paul is well behind at 18 percent, followed by Rick Santorum with 8 percent and Huntsman and Gingrich locked right behind with 7 percent.
Romney will probably use the Globe as a coffee coaster Friday morning.