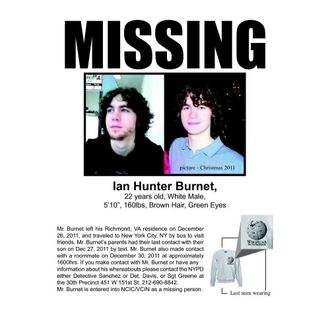 Twenty-two-year-old Ian Burnet, an engineering student at Virginia Commonwealth University, came to New York City the day after Christmas to celebrate the New Year with friends, but he has not been heard from since December 30. That afternoon, he texted his college roommate and then departed the apartment where he was staying, located on Riverside Drive near 139th Street, leaving behind his cell phone, wallet, laptop, and iPod. A search effort has unfolded, centered around a detailed Facebook page that now counts over 2,000 members. Burnet's family has also appealed for help on the popular online community Reddit, where Burnet spent most of his Internet time, having also left behind, through his post history, a detailed account of his moods and interests. 
Last week, Burnet's older brother Jamie, also a Reddit user, posted a plea in the "NYC" and "Assistance" sections of the site, and was joined in the comments by Ian's ex-girlfriend and current roommate, the last person who was in contact with him, also a Reddit user.* "His last credit transactions were for a $20 Metro card on the 30th and a Burger King transaction we believe was on the 31st," Jamie wrote. "For all we know he got out of town somehow … he could be broke and hitchhiking back down the East Coast to Virginia. I don't know."
Commenters responded with sympathy and suggestions, including the advice to check his laptop. "He password protects all of his electronic devices," Ian's roommate responded. "He has a tendency to wipe the default OS and install [operating system] ubuntu over it. So even if they got physical access to his laptop, I doubt they'll be able to check his recent activity."
"Have you ever thought he DOESN'T want to be found?" one user asked. His brother wrote back candidly:
Yes. There's a very real possibility that he took his own life, and I'm trying not to think about it. He has a history of depression, and there have been scares before. But he didnt leave any last messages behind, which would be extremely uncharacteristic … I'm hoping that's not the case.

As for the possibility that he's alive and doesn't want to be found … maybe. But if he's out there alone, with no money, not much streetsense, and only one light jacket, then he's in danger no matter what his intention was. It's cold as BALLS outside, and colder at night.

If he's alive AND safe, and wants us to think he's gone? I dont even know what to think about that. I'm okay with any theory that means he's alive, but if that's what he did, and he's just sitting on a couch somewhere thinking "I got those guys good", then … well. I'm still going to look for him until I find him, and when I find him I'll hug him and then clobber him for making me cry.
While the Huffington Post reported that Ian "has no history of drug or alcohol abuse," Jamie does write that Ian also left behind his "trees" (Reddit speak for weed) at the apartment, and other users noted his frequent postings the site's section devoted to marijuana. Under the name "Speaks_for_Trees," Ian, who graduated high school as valedictorian, also wrote frequently about astronomy, including black holes, aliens, and asteroids, along with his libertarian and atheist views ("you know, a typical redditor," one user joked).
The FIND IAN BURNET Facebook group includes dozens of photos and organizing documents for those looking to help, including tips for media and government outreach. Last night, a candlelight vigil was held for Ian in Virginia. Anyone with information should contact (212) 690-8811 and ask for Detective Sanchez, Detective Davis, or Sergeant Greene at the NYPD's 30th Precinct.
Update: A more recent post from Jamie on Reddit provides another peek into his emotional state and the ongoing search. He writes:
I dont know if it's okay for me to post about myself. I was a new redditor before all this happened, and now I dont really have anonymity, at least not for anyone who really looks. My dad tells me to be careful about what I post. He tells me that my previous reddit thread on the subject is being used as a source by media sources in a lot of the cities carrying the story. When a few people read online about Ian's interest in trees, they reported it and some people took that as a prompt to stop searching. They'd already judged my brother and didn't want to help someone like that. I worried that maybe I'd hurt things more than I'd helped.
* This post has been corrected to indicate that Jamie is Ian's older brother, not sister.