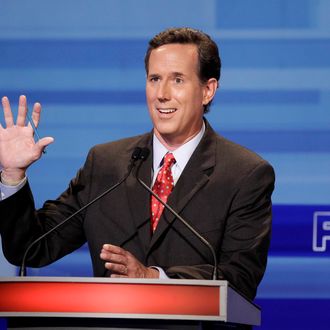 Winner?
Photo: Pool/2011 Getty Images
A vote counter who said he witnessed the votes tallied at his precinct in Moulton, Iowa, has insisted that Mitt Romney received 22 votes from the 53-person caucus at Garrett Memorial Library when he should have been credited for only two. If true, the discrepancy would flip Mitt Romney's ridiculously thin margin of victory in Rick Santorum's favor, giving him the win. However, a spokeswoman for the Iowa Republican Party said that 28-year-old vote counter Edward True, who's suggested the discrepancy, should shut his damn mouth.
KCCI in Des Moines, Iowa, reported that the spokeswoman said that True is not a precinct captain and he's not a county chairperson and therefore has no business talking about election results. She added that the party would not give interviews about possible discrepancies until the caucus vote is certified.

But Mr. True is certain that his calculations are correct and wonders only whether it was a mistake or something sinister. "I imagine it's a good possibility that somebody instead of hitting 2 might have hit 22 by accident," True said. "I hope so."
When the Huffington Post brought the possible discrepancy to Santorum's attention on Thursday night, he said "We were ahead and they told us that 20 votes were undercounted for Romney and that's what changed it. So, I'm not surprised to hear that. We will see what happens."
Your move, Iowa.