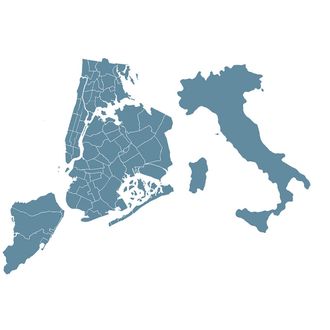 The effects of Italy's budget crisis aren't confined to the Mediterranean, or to the stock market here, or to the shorter lines at Eataly as expat Italians count their Euros. As the Times reports, Italian cutbacks have led to the loss of Italian government jobs here in New York. Salaries have been slashed at the Italian consulate on the Upper East Side, and reportedly, its Newark branch might be shut down entirely. (Who knew there was an Italian consulate's office in Newark?!) There have also been budget cuts at the Italian American Committee on Education and at the Italian trade commission, meaning you won't see the "Made in Italy" ad campaign any more. You will probably still see shirts with that slogan on Jersey Shore cast members present, past, and future, however.
But the most dramatic effect of all will be felt at RAI, the country's national broadcaster, which has an office here in New York: Sixty-six employees there will lose their jobs, and the studio will shut down. The remaining bureau members will borrow the AP's studio for broadcasts. They're not going easily:
[T]he workers, more than half of whom are members of a local union, are resisting and complaining that they are being treated differently from their peers in Rome. In a letter to the company's lawyer, a lawyer for the unionized employees warned that the scheduled shutdown and plan to outsource the production of television and radio news reports would violate the workers' contract and American labor law.
That's particularly pointed since the corporation seems to have decided that it would be easier, culturally, to fire employees here in New York rather than back in Italy, where it's very difficult to fire someone, Anthony Tamburri, dean of the John D. Calandra Italian-American Institute at Queens College, told the Times. "There is this thought process that you have to do everything you can to make sure everyone has a job."