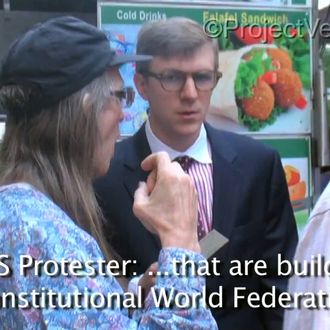 The Alfred E. Newman of investigative journalism, James O'Keefe, staged his latest undercover video at the New Hampshire primary, where members of his team attempted to expose voter fraud by obtaining ballots for dead people. Although they did not cast any votes, Think Progress notes that O'Keefe's crew may have inadvertently committed voter fraud themselves by, in the words of the law, "[making] a false material statement regarding his or her qualifications as a voter to an election officer." New Hampshire law also requires both parties to consent before filming their communication — and the election officials in O'Keefe's video don't appear to have given permission — so state officials are calling for the vigilante filmmaker to be to prosecuted.
The state's Attorney General has said they are "undertaking a comprehensive review of voting procedures with the Secretary of State," but local mayor Ted Gatsas said of the O'Keefe team, "They should be arrested and prosecuted to the fullest extent of the law." Nashua City Clerk Paul Bergeron added, "People who pull stunts like this should be prosecuted," and told Think Progress that the video "is a crime, regardless of what the intent might be. What they did was wrong."
O'Keefe received three years probation after pleading guilty to entering U.S. property under false pretenses in 2010, when he attempted to infiltrate the office of Louisiana Senator Mary Landrieu. The potential trouble in New Hampshire doesn't even seem worth it: Voter fraud, as Think Progress also notes, is almost nonexistent.