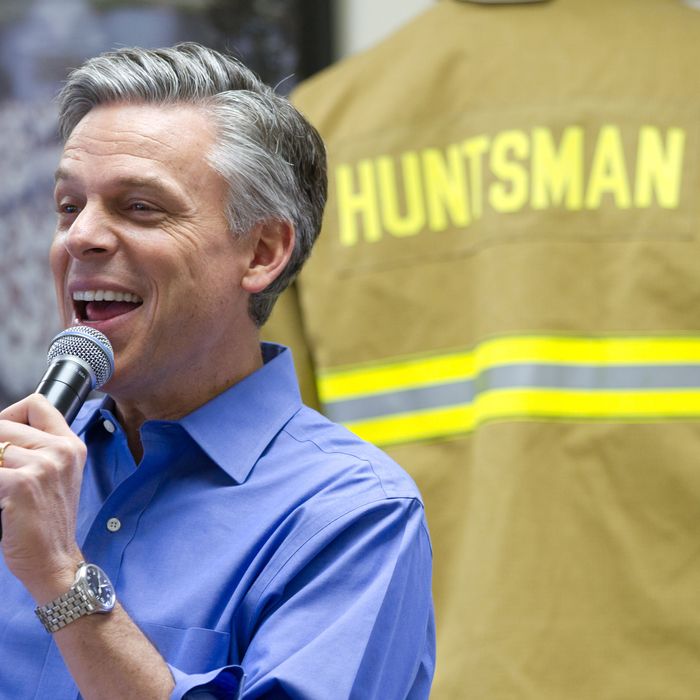 Photo: Matthew Cavanaugh/2012 Getty Images
After months of predicting all-out victory in the New Hampshire primary, largely forgotten moderate GOP candidate Jon Huntsman has been working to lower the bar for success. "I'm looking to beat market expectations," he says now. But thanks to a late, little burst of momentum, as evidenced in a handful of weekend polls, those expectations are rising some. Still, no one expects Huntsman to win (although he forecasted victory as recently as December 19), nor is he likely to have much more success moving forward. 
But first the good news! A new PPP poll shows Huntsman with 16 percent of the vote, close to Ron Paul for second place, while an American Research Group poll places him in second with 17 percent. Other polls indicate a similar trend, as well as a slight dip for Mitt Romney, but even a second-place finish for Huntsman in New Hampshire isn't likely to catapult him anywhere. As Nate Silver notes, Huntsman "probably needs a lights-out, headline-making finish to become a major player in the Republican nomination race." Silver puts Huntsman's odds to win the state at 250-1.
Moreover, Huntsman's relative success probably won't improve his standing elsewhere in the nation. PPP's findings put Huntsman in fifth place among actual Republican voters with just 11 percent of the vote. Huntsman's advantage only works in New Hampshire because some 40 percent of those voting are non-Republicans; Huntsman gets 35 percent of Obama voters to Romney's 19 percent.
Because Huntsman's local momentum can only build for one more day, Romney, who maintains a 60 percent favorability rating in the state, is a near lock for first. But if Huntsman's New Hampshire bump isn't proof enough that every Republican in this race gets their own little surge at some point, consider this: In the Granite State, Buddy Roemer is now polling above Rick Perry, who's alone in last place.