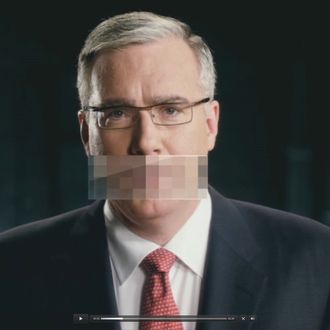 Instead of engaging directly with recent reports that he's unhappy with his bosses at Current TV, Keith Olbermann has opted to lash out at those behind the story. The New York Times outlined the "clash" between Olbermann and Current over the host's absence from coverage of the Iowa caucuses, and the combative Olbermann immediately took to Twitter to discredit the report, claiming that the Times' young star Brian Stelter tried to "threaten" him into commenting on the article. Stelter said he merely told Olbermann what he was going to report and gave him an opportunity to respond, to which Olbermann said Stelter was "flat out lying." Today, Olbermann took his battle up a notch and menacingly predicted forthcoming issues for Stelter.
A Twitter user called Stelter "an EXCELLENT reporter who does his homework," to which Olbermann replied, "If you knew the problem he's going to have over his anonymous staffer source, you wouldn't think so. He didn't vet the guy." Olbermann didn't elaborate, so the validity of that threat remains to be seen.

Earlier, Olbermann told Stelter, "employees in nearly all companies do not have an unfettered right to speak to the media. I don't, you don't." And he took a broader swipe at the institution, too: "Sadly this is today's NY Times. It has had to issue two corrections just about me in the last month. God knows what else is inaccurate."
Stelter's Times report currently features no corrections, but whether it's inaccurate or not, Olbermann's tack is a savvy one: By attempting to make the story a niche meta-media one about reporting accuracy and anonymous sources, instead of one about his own alleged divalike behavior, Olbermann is obscuring the point and assuring that fewer people continue to pay attention.