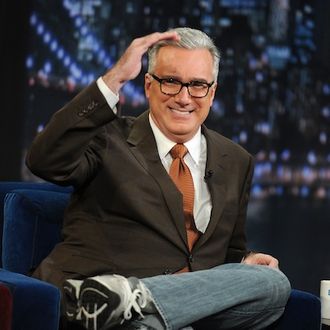 This time the employer is Current TV, and already lawyers are involved. The dispute centers on Olbermann's role within the network, most recently in the lead-up to the Iowa caucuses. Olbermann declined to host the network's special election coverage, "apparently out of frustration about technical difficulties that have plagued his 8 p.m. program, Countdown," the New York Times reports. The channel, of course, ran coverage anyway, and Olbermann held a possibly defiant staff meeting even though he was not involved in the actual TV-making. Current's president then told the Countdown staff in a memo that it was Olbermann who passed on the opportunity to do his job.
In a statement to The Hollywood Reporter concerning the Times report Olbermann said, "I was not given a legitimate opportunity to host under acceptable conditions. They know it and we know it. Telling half the story is wrong." The network is indicating that Olbermann declined the opportunity to cover Iowa — he did so "long ago," the Times reports.
Current declined to comment on the situation, and Olbermann's show went off on Wednesday night like normal. But sources say the egoist host's attitude toward his bosses has worsened recently, owing the shift to management changes and the aforementioned technical issues. "This is Keith being Keith," said an executive.
Olbermann is notorious for clashing with his employers. Most recently, it was his departure from MSNBC, where he was suspended for making a political contribution, returned to the show, and then left the network shortly thereafter amid some public sniping. Before that it was ESPN. So where could Olbermann go next? He recently said on Twitter that he doesn't think that launching his own network is viable. CNN? Fox News?!