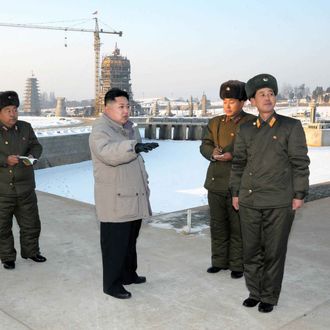 Calm down, bro.
Photo: KNS/AFP/Getty Image
Kim Jong-nam is Kim Jong-un's older half-brother, and the late Kim Jong-il's oldest son. By the laws of primogeniture, which we learned mostly from various Merchant Ivory films and Jane Austen novels — and which we assume to also be applicable to cruel, frightening modern dictatorships in entirely different parts of the world — Kim Jong-nam should have succeeded his father, and Kim Jong-un should have become a clergyman with a moderate annual living, somewhere in the countryside. But Kim Jong-nam is, like so many first sons before him, a bit of a dissipate wastrel. He finally screwed up his chance to rule North Korea when he snuck into Japan to visit Disneyworld and got caught. (Classic Austen plot line.)
But Disneyland is the happiest place on Earth, and North Korea is … not. So maybe it was worth it? Only now it sounds like Kim Jong-nam is having some regrets about the consequences of his time with Mickey, writes the Slatest.
Kim Jong-nam, Kim Jong-il's eldest son and the half-brother of Kim Jong-un, doesn't think his younger sibling will succeed at his new gig as the leader of North Korea, according to a book being published in Japan this week. The book is based on interviews and emails with the eldest son over the course of seven years, and is written by Japanese journalist Yoji Gomi. Gomi told CNN that Kim Jong-nam is "not comfortable that his younger brother is succeeding the power of Kim Jong Il" and thinks that Kim Jong-un will "fail" because he "has a lack of experience, he's too young, and he didn't have enough time to be groomed."
And I just don't understand why dad loved him better than me.