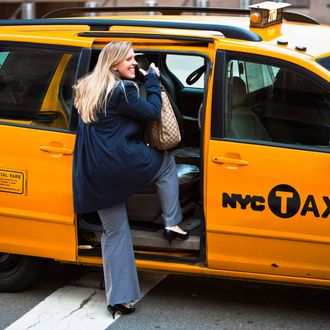 She's happy now, but wait until she's cruelly forced to spend two to four seconds turning off Taxi TV.
Photo: Jan Johannessen/Getty Images
The city's planned new fleet of 18,000 livery cabs represents an important victory for global human rights. Not only will the fleet expand taxi pickup into the outer boroughs considerably, but the new livery cabs won't be required to have televisions in their backseats. Drivers can install one, if they want (to be a jerk). "With Taxi TV, there's a diversity of opinion as to the value for passengers," David Yassky, taxi and limousine commissioner, told the Times, perhaps mistaking the meaning of the word diversity,  since everyone except the mothers of the people featured on Taxi TV despises it. Maybe even those mothers, actually.