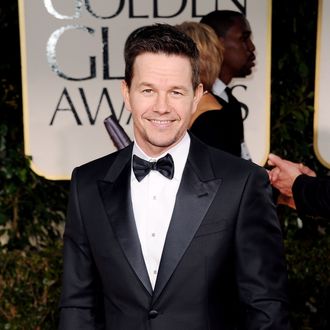 Mark Wahlberg thinks real life is exactly like a Mark Wahlberg movie.
Photo: Jason Merritt/2012 Getty Images
Mark Wahlberg is one of many lucky people who nearly ended up on one of the hijacked 9/11 planes. Wahlberg was scheduled to fly on one of the doomed flights from Boston to L.A., but decided to leave a week earlier in order to see a friend's movie at the Toronto Film Festival. But Wahlberg has never stopped thinking about what could have been. No, not his tragic, untimely death. Wahlberg thinks he could have defeated the hijackers and landed the plane, according to an online excerpt of an interview in Men's Journal:
On being scheduled to be on one of the planes that crashed into the World Trade Center
"If I was on that plane with my kids, it wouldn't have went down like it did. There would have been a lot of blood in that first-class cabin and then me saying, 'OK, we're going to land somewhere safely, don't worry.'"
Sorry, families of the people who died on those flights: If your relatives were just a little more like movie actor Mark Wahlberg — if they were braver,  stronger, loved their kids more, and most important of all, were supernaturally aware of the hijackers' unprecedented intentions — it could have all worked out.
Update: Wahlberg has issued an apology:
"To speculate about such a situation is ridiculous to begin with, and to suggest I would have done anything differently than the passengers on that plane was irresponsible. I deeply apologize to the families of the victims that my answer came off as insensitive, it was certainly not my intention."