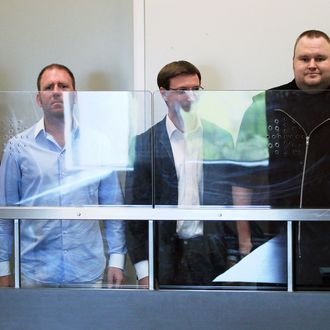 The "Mega Conspiracy" case against Megaupload.com and its eccentric founder Kim Dotcom includes the U.S. government's claim that the file-sharing website did half a billion dollars' worth of harm to copyright holders while generating $175 million in criminal proceeds. With the amount of news coverage seen so far about Dotcom, a.k.a Kim Schmitz, and his lavish lifestyle, it's as if a casual observer could account for almost every dollar of that allegedly illegal fortune. Schmitz, though, isn't admitting anything just yet.
"This is not a case where there will be any concession by Mr. Dotcom," said the accused pirate mastermind's lawyer in a New Zealand court today. Dotcom is demanding bail, although a judge declined to make a decision about his release until tomorrow at the earliest. A prosecutor called Dotcom an "extreme" flight risk, saying he previously ran to Thailand while wanted in Germany, and pushed the court to oppose electronic bail as well, for fear of giving Dotcom access to phones and the Internet.
And then there's his fortune. The FBI raided Dotcom's mansion and seized $6 million in luxury cars bearing personalized license plates like, "HACKER," "STONED," "CEO," and "GUILTY." Beyond the details of the indictment, which so tickled the online world last week, the New Zealand Herald reports today of a $4 million renovation on Dotcom's property, which includes a swimming pool with "imported spring water and a $15,000 custom-made ladder."
Dubbed "King Kim," the Megaupload boss can reportedly be seen on video in the homemade documentary Kimble Does Monaco, in which he "drinks straight from a punchbowl, plays poker and lashes a man's bare behind with a leather belt." In the credits, Dotcom thanks his mother and his psychiatrist. Although these details have no real connection to his potential guilt in what's bound to be a complicated international copyright case, Dotcom's lifestyle is already the stuff of Internet legend.