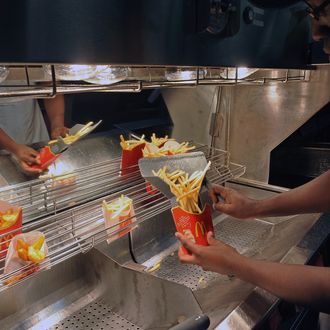 $20 an hour for corralling french fries?
Photo: AFP/2011 AFP
If Assembly Democrats have their way, New York State's minimum wage of $7.25 an hour would rise to $8.50 in 2013. Is that a fair number? Too much? Too little? Do people even know what the minimum wage is, currently? To find out, we sent two interns, Rebecca Berg and Timothy Kosinski, to Union Square and 125th at Lexington, respectively, to coerce 100 passersby into answering our questions. Read on for the results of our highly unscientific and unrepresentative (but still interesting!) poll.
First, we asked our victims to give us their best guess on the current minimum wage: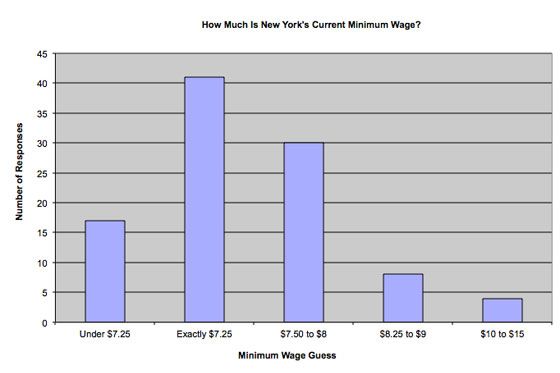 We were somewhat surprised to learn that a plurality, 41 respondents, nailed it right on the head. Only a few were way off, and one person, who may have just awoken from a 30-year coma, thought it was $15 an hour.
Next up, we asked what the minimum wage should be, regardless of what it actually is.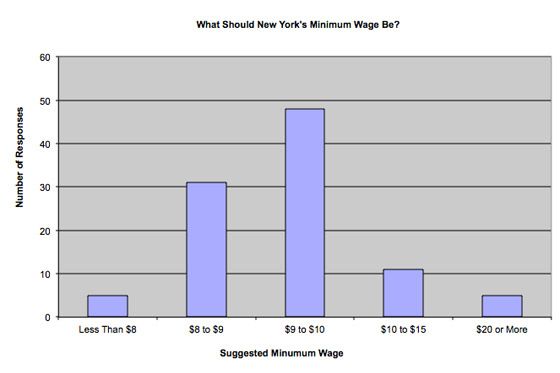 As you can see, most New Yorkers think the state should be more generous, with nearly two-thirds suggesting a minimum wage of at least $9 an hour. Five people — probably not business owners, we're guessing — thought it should be no less than $20 an hour.
The general sentiment was that it's just too hard to get by in New York City on $7.25 an hour, or even $8.50 an hour. "The cost of living has gone up, but the pay scale hasn't," said one person. "Things don't match. They should." Another person agreed, telling us, "I think people deserve it, especially in NYC. You can't survive on that kind of wage here." One of the men who suggested raising it to $20 an hour made a different kind of argument altogether. "It should be at least $20," he said, "so I can afford to take out a pretty girl like you." Poor interns.
Finally, we asked our 100 survey respondents whether they agreed with the Assembly bill, which would push the minimum wage to $8.50 an hour.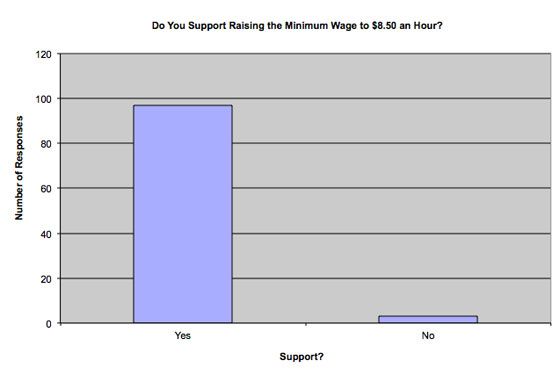 So we'll take that as a yes. As for the "no" people, here's how they explained their vote:
"

No, because $8.50 is not enough. I'm not gonna say yes to $8.50 when people deserve

 

more."
"I work with students (between the ages of 17 and 21). They think the minimum wage should be $9 or $10. I don't agree; they need an education. So the minimum wage is somewhat of a

 

motivator."
"Do I think it's enough money? No. Can small businesses afford to pay more? I don't think

 

so."