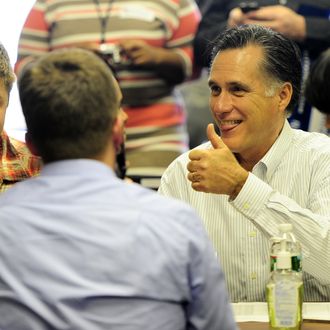 Republican presidential hopeful Mitt Romney gives a thumb up as he joins volounteer to call potential voters at his New Hampshire headquarters in Manchester, New Hampshire, on January 9, 2012. New Hampshire will hold its Republican primaries on January 10, 2012.
Photo: Emmanuel Dunand/AFP/Getty Images
If Romney somehow loses this thing, it won't be because he ran out of money. It'll be because he tripped and fell off a stage on live TV, knocking Nancy Reagan into a giant chocolate birthday cake and accidentally tongue-kissing Adam Lambert in the process.