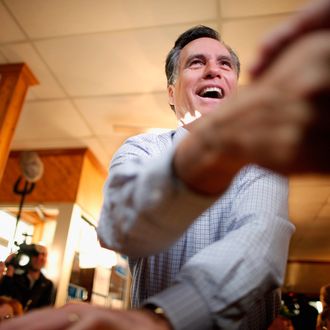 Photo: Chip Somodevilla/2011 Getty Images
In 2002, Mitt Romney described himself as a "moderate" with "progressive" views, and the video clip of him saying those dirty words lives on amid the ongoing fight for the GOP nomination. Primary documents seem to back up Romney's description of himself at the time as well. Buzzfeed's Internet sleuth Andrew Kaczynski, who's been adept at uncovering embarrassing political moments from the pasts of all candidates, comes today with two bits of the old Romney that directly contradict his tough new conservative bona fides: a campaign flier in support of gay rights and a Planned Parenthood questionnaire pledging Romney's support for Roe v. Wade. 
From the 2002 governor's race in Massachusetts, in which Romney escaped with a win, the candidate gives a plain yes in response to questions like, "Do you support the substance of the Supreme Court decision in Roe v. Wade?" and "Do you support state funding of abortion services through Medicaid for low-income women?" He also gets behind "the teaching of responsible, age-appropriate, factually accurate health and sexuality education."
A flier from Romney wishing "a great Pride Weekend!" on pink paper was disowned by Romney spokesman Eric Fehrnstrom. "I don't know where those pink flyers came from," Fehrnstrom told the Huffington Post. "I was the communications director on the 2002 campaign. I don't know who distributed them … I never saw them and I was the communications director."
But a former Romney intern, who now works at the conservative think tank, The Manhattan Institute, tells Buzzfeed that the flier campaign "was organized by a full-time staffer," and described passing them out on Boston Common the weekend of the parade. A bit from Romney's website at the time also shows his support for civil union legislation. The flier reads, "All citizens deserve equal rights, regardless of their sexual preference." How disgustingly reasonable!