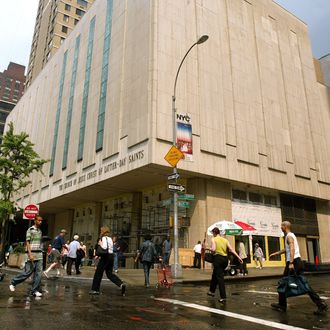 The first Mormon temple in Manhattan.
Photo: Mario Tama/Getty Images
Manhattan's Mormon community has been roiled by the controversial sale of "a crumbling, windowless, one-story building on 129th Street between Lenox Avenue/Malcolm X Boulevard and Fifth Avenue, and the grassy vacant lot beside it," the New York Times reports, with the church opting to sell to a big developer instead of local community groups. With similar properties selling for as much as $1 million nearby, church leaders in Utah decided that, in this case, funding their global mission outweighs what some see as the local good. "The more condos you build, the more expensive it becomes for the little guy like me," said a neighbor.
The Times reports:
The Mormons find themselves torn between two charitable missions — the global social welfare projects that go hand in hand with its energetic proselytizing, which proceeds from the sale will support; and the needs of Harlem, where the mixed-race congregation has achieved a hard-won measure of acceptance despite the church's fraught history with African-Americans, who were barred from the church's ministry until 1978.
But the money has proven hard to ignore, despite proposed plans from Harlem congregation members, who said they could find a way to "meet local needs, serve the community and still make enough money that we can continue to serve those global needs."
One big loss will be the lot's garden, which is shared by churchgoers and nonmembers. "We garden," said one man, who grew up Mormon. "It's part of our identity." A non-Mormon neighbor was already mourning her crops: "Tomatoes, cucumbers, red, yellow and green peppers, thyme," she said. "Rosemary. Lettuce. I grew a lot of herbs, purple basil. Different things." On the bright side: shiny condos!