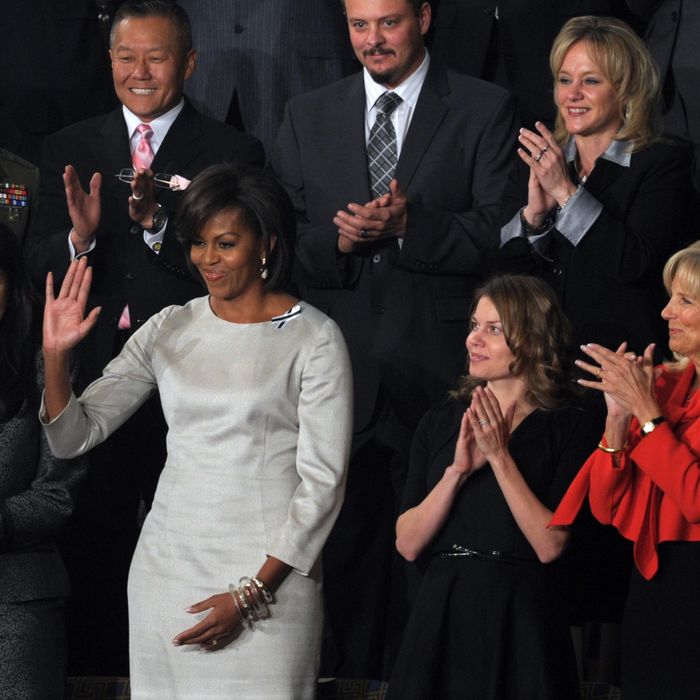 Last year's now-forgotten inspirational heroes.
Photo: Nicholas Kamm/AFP/Getty Images
Tonight's annual State of the Union address will include some familiar traditions: A president describing a dead-on-arrival vision for the country; a congress awkwardly deciding on the fly whether a specific proposal is worthy of silence, applause, or a standing ovation; and brief cameos by the  inspirational American heroes sitting next to the First Lady. This year, 21 guests will join Michelle Obama at the speech, and while all of them are vastly more inspirational than you or I will ever be, some stand out from the rest. Using a rigorous scientific formula based entirely on our personal, subjective opinions, here are the top five. 
Name: Juan Jose Redin
Story: "Juan Jose Redin was born in Ixtapan de la Sal, Mexico before coming with his mother and younger sister to the United States at the age of 10. After enduring many challenges throughout his journey to achieve his dream of higher education, Juan benefited from California's Assembly Bill 540 and was able to enroll, and excel, in his studies at UCLA. He received both his undergraduate (with honors) and law degrees from UCLA. Now a US citizen and a practicing attorney, Juan is as passionate as ever about ensuring educational access to all."
Inspirational American Hero Points: +5 for becoming an American citizen, +3 for "enduring many challenges," +5 for dreaming of "higher education" instead of something dumb, like being a rapper.
Total: 13 inspirational American hero points
Name: Bruce Cochrane
Story: "Bruce Cochrane comes from a family that has manufactured furniture in North Carolina for decades, but when Cochrane Furniture was sold in 1997, the new owners moved manufacturing to China. Two years ago, Mr. Cochrane decided the time had come to start his own furniture company back in his home state. In January 2012, production began at Lincolnton Furniture in the same plant his family once ran. Lincolnton Furniture is expected to add 130 new jobs to the area. Mr. Cochrane attended President Obama's Insourcing American Jobs Forum earlier this month."
Inspirational American Hero Points: +10 for starting his own business, +5 for not doing it in China
Total: 15 inspirational American hero points
Name: Jackie Bray 
Story: "Jackie Bray is a single mother from King's Mountain, North Carolina. Last January she was laid off from her job as a high speed packaging mechanic. That is when she enrolled in Central Piedmont Community College to prepare for Siemens pre-hiring test. After finishing the course and passing the test, Ms. Bray was hired by Siemens in August of 2011. This type of partnership between businesses and community colleges is exactly what President Obama hopes to strengthen to maximize workforce development strategies, job training programs, and job placements. Ms. Bray now works as a process operator, combining her machinist background with new skills she has been trained on since working at Siemens: laser training, robotics training, penetrant inspection training, and product orientation." 
Inspirational American Hero Points: +4 for being a single mother, +4 for being laid off, +7 for learning new skills and finding a new job, +1 for doing crazy futuristic stuff with lasers and robots in her new job.
Total: 16 inspirational American hero points
Name: Captain Mark Kelly, USN, Ret.
Story: We all know who Mark Kelly is.
Inspirational American Hero Points: +8 for being an astronaut, +10 for being married to a congresswoman who was shot in the head and nearly died but is now slowly recovering with grit and determination. 
Total: 18 inspirational American hero points. 
Name: Sara Ferguson
Story: "Sara Ferguson teaches literacy and math at Columbus Elementary, and has worked for the Chester Upland School District for 20 years. She is a third generation educator in Chester Upland, and a proud product of that district. When the Chester Upland School District faced bankruptcy earlier this year in light of severe state budget cuts, Ms. Ferguson vowed to continue teaching even without being paid, saying 'we are adults; we will make a way. The students don't have any contingency plan. They need to be educated, so we intend to be on the job.'"
Inspirational American Hero Points: +4 for being a teacher, +16 for actually believing that the children are our future.
Total: 20 inspirational American hero points