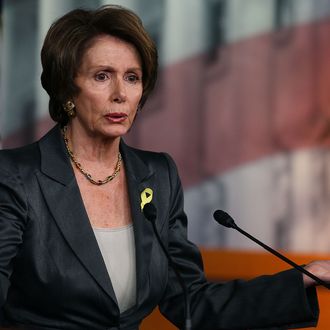 House Democratic Leader Nancy Pelosi speaks during her weekly media briefing at the U.S. Capitol on December 15, 2011 in Washington, DC. Pelosi spoke about differences between Republicans and Democrats over measures to keep the government funded after tomorrow and extend the payroll tax cut set to expire at the end of the year.
Photo: Mark Wilson/Getty Images
After telling CNN yesterday that she was certain Newt Gingrich would never become president because "there is something I know," Nancy Pelosi is now clarifying that she doesn't actually have any deep, dark Gingrich secrets. "The 'something' Leader Pelosi knows is that Newt Gingrich will not be President of the United States," a spokesperson claims. So how does she know? Because she knows. Fascinating.