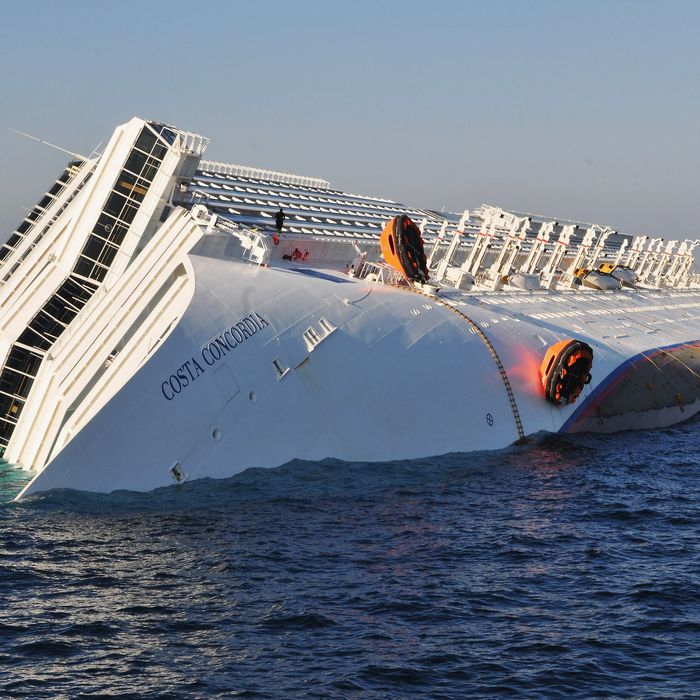 The cruise ship Costa Concordia lies stricken off the shore of Giglio. (Laura Lezza/Getty Images)
Photo: Laura Lezza/2012 Getty Images
In a scene bordering on the absurd, an immense luxury cruise liner is lying practically flat on its side just off the Italian coast. The Costa Concordia, with some 4,000 people onboard, began to list dramatically late yesterday after hitting a "big rock," the cruise line's president said. So far three bodies have been recovered from the sea, with another 70 or so unaccounted for — an Italian Coast Guard captain said they may still be "in the belly of the ship." Another possibility is they may be scattered among private homes on the island of Giglio (population: 700), where many swam to after jumping ship.
Though most passengers were able to get off the ship using its lifeboats, the evacuation was apparently quite unruly according to passengers who spoke with the AP.
"It was so unorganized, our evacuation drill was scheduled for 5 p.m.," said Melissa Goduti, 28, of Wallingford, Connecticut, who had set out on the cruise of the Mediterranean hours earlier. "We had joked 'What if something had happened today?'"
The cruise liner's captain has since been arrested on suspicion of multiple manslaughter, causing a shipwreck and abandoning ship.
This post has been updated with additional information.