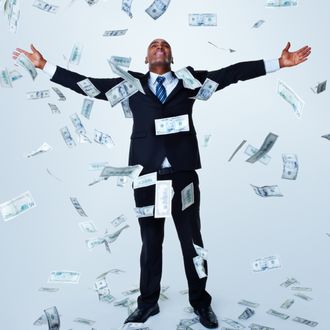 Not an actual depiction of an increased minimum wage.
Photo: istockphoto
In an election season where discussion of income inequality is suddenly flooding the airwaves, thanks both to Occupy Wall Street and its secret ally, Mitt Romney's tax returns, New York State assembly speaker Sheldon Silver is proposing a measure that seeks to (slightly) close that gap. The Democrat will today propose a bill to raise the state's minimum wage 17 percent, from $7.25 an hour to $8.50 an hour, with the support of Mayor Michael Bloomberg. "It is impossible to live in this city on $15,000 a year," a Bloomberg aide told the Times (probably not from personal experience).
Similar hikes are on the docket in eight other (mostly blue) states, including California and Massachusetts. At the moment, New York's minimum wage lags behind that of eighteen other states and the District of Columbia; the last time the state legislature here voted to increase the minimum wage was eight years ago. Not everyone's a fan of the idea.
"The national minimum wage went up, and in the United States of America the economy's the worst it's been since the Great Depression," said Senator Tom Libous, a Binghamton Republican. Mr. Libous said he was skeptical of studies suggesting that increasing the minimum wage spurs economic growth.

"I think that's a lame theory that doesn't amount to much," he said.
Good thing he refuted it with more than just a dismissive adjective favored by sullen teenagers, then.