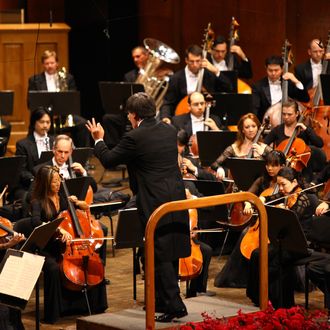 Music Director of New York Philharmonic, Alan Gilbert conducts the New York Philharmonic Orchestra during the Opening Night Gala of New York Philharmonic sponsored by Breguet at Avery Fisher Hall at Lincoln Center for the Performing Arts on September 21, 2011 in New York City.
Photo: Neilson Barnard/Getty Images
By tragedy, we mean when that man's iPhone rang during a performance more than a week ago. First, the guilty party spoke out, describing how he hadn't slept in days, and now a witness tells his tale, praising the conductor for his "brave decision that night, to halt a performance and remedy a problem with firmness and dignity." Seriously, guys? It's as if there isn't a super serious Republican primary going on.