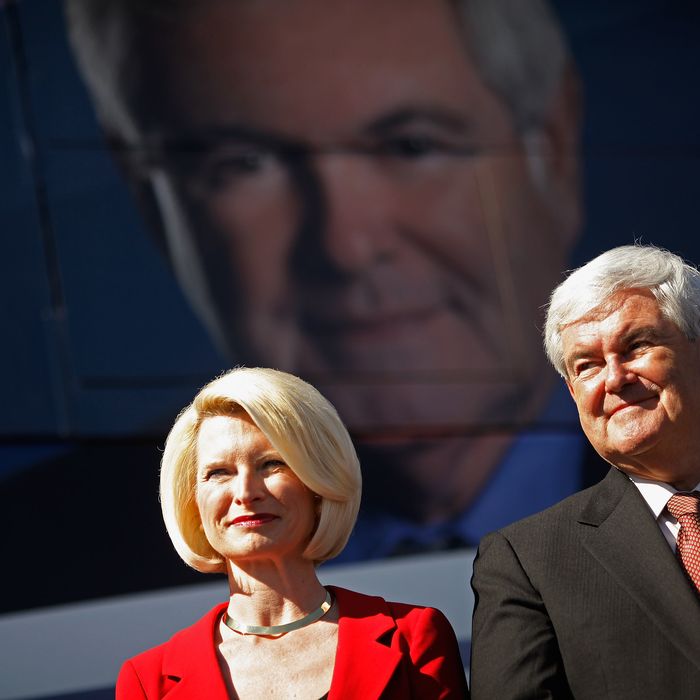 Photo: Chip Somodevilla/2012 Getty Images
For some churchgoers, the attendance of Sunday morning services is a ritual rooted in reflection, for others in repentance, for others in rejoicing, and for still others in all three. But for Newt Gingrich, at least on this particular Sabbath day, an hour before the altar at the Exciting Idlewild Baptist Church in Lutz, Florida, just north of Tampa — a facility so vast that it has its own Starbucks in the lobby, so sprawling that to call it merely "mega" would be a dis — was apparently something else: a time to plan a spree of rhetorical violence, which he unleashed on Mitt Romney out in the parking lot immediately after singing along to the final hosannas inside.
On the Sunday shows, Gingrich repeatedly called Romney a liar and decried his rival's "carpet-bombing" of him with negative ads. But outside the church, Gingrich went further, calling Romney a "pro-abortion, pro-gun-control, pro-tax-increase moderate from Massachusetts" who has been using "money from Wall Street" to spread his pernicious lies. Gingrich called this "as big an outrage I've had in my career." He predicted that Romney would be unable to secure the requisite number of delegates to claim his party's nomination. "When you add the two conservatives together," Gingrich argued, referring to himself and Rick Santorum, "we clearly beat Romney." The challenge for Gingrich would be to convert the anti-Willard majority into a pro-Newt one, he said, which he vowed to spend the coming months doing in a "straight-out contest" that would go on all the way until the GOP convention.
Three things sprang to Impolitic's mind after basking in the warm Florida sun and absorbing this praise-the-Lord-and-pass-the-truncheon performance. The first and most obvious is that Gingrich has fully absorbed the fact that he is going to lose, and possibly very badly, in Tuesday's primary here. Given the trio of polls released this morning that show Romney leading by between eight and sixteen points, of course, Gingrich would have to be blind or batshit crazy (i.e., even crazier than his critics believe him to be) not to recognize what is almost certainly about to befall him. But it's not just the polls that have forced him into to a reckoning with reality.
In a weekend of trailing the former speaker to a series of events along the I-4 corridor, there was just no escaping that a campaign that was flying high (and even into outer space) ten days ago has now come crashing back to earth. At what was billed as a Hispanic town hall meeting at another church yesterday in Orlando, Gingrich was greeted by row after row of empty pews and maybe 40 voters in attendance. For a full hour after the scheduled starting time, Gingrich and his wife, Callista, sat outside, cloistered in his campaign bus — possibly sulking, possibly fuming at his campaign's horrid advance work, and surely praying that a few more souls would show up. When Gingrich finally entered the building, it was announced that the event was a town hall no more; the candidate would speak briefly, then take pictures with the scant few who'd turned up. And "briefly" was an understatement: Standing behind a Lucite lectern, Gingrich talked for a bare eight minutes and eleven seconds, looking deflated and exhausted. By no small margin, it was the worst and saddest campaign event that I have witnessed in this presidential cycle.
The second thing evident from Gingrich's parking-lot press avail in Lutz was that someone has finally impressed on him that, if he is going to have a hope in hell of competing effectively against Romney in the final two days in Florida and beyond, he must, you know, drive a message. All week long and most glaringly at the pair of debates in Tampa and Jacksonville, Gingrich failed utterly to pound the contrast that served him so well in South Carolina: that Republican voters have a clear choice before them — between, as he would put it, a timid Massachusetts moderate and a bold Reagan conservative. Instead, he allowed Romney's team to get under his skin and provoke him into defending himself (irritatedly, inconsistently, ineffectively) and relitigating countless Newtcentric issues ad infinitum and ad nauseum (ditto) instead of bludgeoning his foe. And he let himself fall victim to his own fetishes and gargantuan propensity for indiscipline, most notably in his wacky and wacked-out foray to the space coast to plump for his long-held dream of a moon colony.
Outside the church, Gingrich finally found his way back to the message he should've been pushing all along — though it's worth noting that, on certain matters dear to his heart, he remains like a dog on a bone. "Take the example of space," he declared out of nowhere, apropos of almost nothing, in the midst of his anti-Romney broadsides. "I went [to the space coast] and … I gave the boldest explanation of going into space since John F. Kennedy in May of 1961." Thereby proving that, even after all the agita it has caused him, his lunar lunacy is still intact, not to mention his grandiosity.
And what of Gingrich's pledge to carry on his crusade all the way to Tampa? That's takeaway number three. Pledges to continue the fight unabated in the face of harsh and/or humiliating outcomes are staples of presidential campaigns. And they are also patently meaningless. (Please recall Jon Huntsman's feigned brio on the night of the New Hampshire primary — and his departure from the race a few days later.) But in Gingrich's case, he might be serious, so much has he come to despise Romney and the Republican Establishment that has brought down on him a twenty-ton shithammer in Florida, and so convinced is he of his own Churchillian greatness and world-historical destiny. The same antic, manic, lunatic bloody-mindedness that has made him such a rotten candidate in the Sunshine State may be enough to keep him the race a good long time.
Waging a protracted battle would likely be an act of futility for Gingrich, but it could turn out to be something much worse for Romney. That is why it's so important for the latter not just to win on Tuesday but to win big — very big. And that, in turn, is why the matter of margins will be the topic of tomorrow's column.