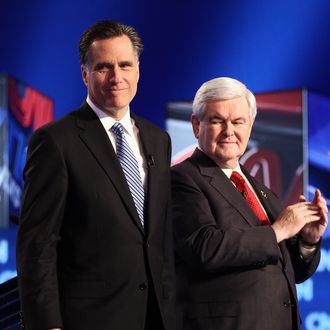 "You won't like Mitt when Mitt's angry!"
Photo: Win McNamee/2012 Getty Images
A day after taking a double-digit drubbing from Newt Gingrich in South Carolina, Mitt Romney headed to the Panhandle State to dig in for the next round of what's shaping up to be a long bout. Romney added a bit of scorn to his speech today, too, delivering harsh criticisms of his GOP rival, the magical, reanimating Newt.
Romney waged multiple attacks on Gingrich in a speech in Ormond Beach, Florida, beginning new a narrative against Gingrich that many expected and many wanted from him.
"Speaker Gingrich has also been a leader. He was a leader for four years as speaker of the House. And at the end of four years it was proven that he was a failed leader and he had to resign in disgrace. I don't know whether you knew that, he actually resigned after four years, in disgrace. He was investigated over an ethics panel and had to make a payment associated with that and then his fellow Republicans, 88 percent of his Republicans voted to reprimand Speaker Gingrich. He has not had a record of successful leadership."
Romney went after Newt's dealings with Freddie Mac and Fannie Mae as well.
"He's been working for Freddie Mac, heard of those guys? He said he's been a historian. I would like him to release his records. What was his work product there? What was he doing at Freddie Mac? Because Freddie Mac figures in very prominently in the fact that people in Florida have seen home values go down – it's time to turn that around!"
"Take the gloves off, Mitt," one supporter shouted. But another longtime Romney backer, a 57-year-old who's been struggling in the down economy, highlighted  a Romney problem that can't be fixed with more colorful language alone: "I don't like his vanilla-ness," she said. "This is the most bland rally I've ever been to — if I were his campaign manager I'd tell him to let his hair down, put on his boots and jeans."
Related: Heilemann: Five Consequences of Gingrich's South Carolina Win