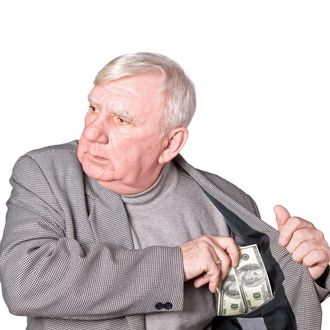 Not Shaw.
Photo: Sergey Lavrentev/iStockphoto
Crawford Shaw, a lawyer from Bedford, New York, turned in a winning Iowa lottery ticket more than a year after it was purchased, and less than two hours before it expired, but has refused to explain how he got hold of it. Instead, he has withdrawn his claim for the $10.3 million prize (also payable as $7.5 million in cash), probably because he has a history of fraud charges.
Shaw had signed and submitted the winning ticket on behalf of Hexham Investments Trust (but spelled the company's name wrong) before claiming to not be a beneficiary of the trust. Asked to provide the identity of the ticket's purchaser by today, Shaw just dropped his claim instead.
Lottery officials say they have no idea what happened. "I'm telling you, if I could take all of the suggestions, it would be a heck of a fun book," said the Iowa Lottery CEO, who previously said the ticket might have been stolen.
As for Shaw, he "played at least a minor role in the collapse of Industrial Enterprises of America, a chemical company that was looted and bankrupted in 2009 by a stock manipulation scheme," and has faced fraud lawsuits in two states. His luck does not appear to have changed.