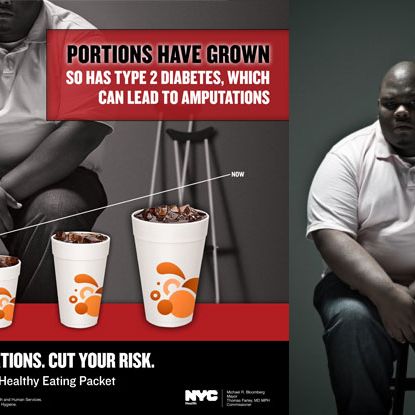 Photo: nyc.gov, Images Source via Getty Images
"Portions have grown. So has Type 2 diabetes, which can lead to amputations," reads a new ad from the Bloomberg administration's health initiative, alongside images of big, evil, sugary sodas and a sad man with one leg. He lost it to bad habits, the city would have you believe. In fact, the original version of the stock photo features a dour-looking man with two legs on a stool, and the health department had one chopped off with computer technology to add to the drama.
"Sometimes we use individuals who are suffering from the particular disease; other times we have to use actors," contended a health department spokesman, speaking about the ongoing Bloomberg crusade against junk food and tobacco. "We might stop using actors in our ads if the food industry stops using actors in theirs." Presumably he means skinny, good-looking actors, because only frowning, deformed, or obese people eat salty foods, drink Coca-Cola, or smoke cigarettes.