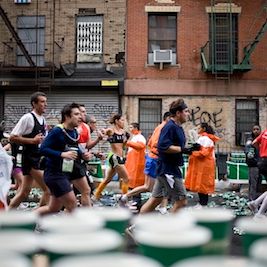 Owing in part to the NYPD's imposition of traffic control and related costs, the New York City Marathon event organizers have jacked up the registration fee about $60, or 24 to 39 percent, depending on the entrant. New York Road Runners will have to pay $216 for the November race, compared to $156 last year. Non-member U.S. residents will have to pony up $255, versus $196 in 2011. That's about $10 per mile.
According to the New York Times, the NYPD told the Road Runners at the end of 2010 that it would begin charging the event to recoup expenses incurred from managing traffic.
Less expensive alternatives to suffering chafed nipples are the Chicago Marathon, which costs runners $150, and the Boston Marathon, about $130.