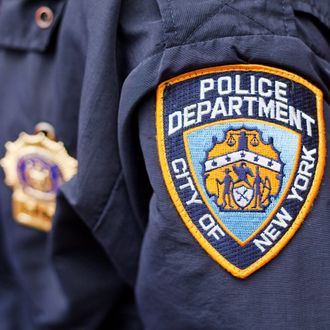 The New York Civil Liberties Union has filed a federal complaint against the NYPD, NY1 reports, alleging that black officers cannot fairly climb the ranks in the department's Intelligence Division because of a "secret list" used for promotions. According to the complaint, "the NYPD has chosen to cloak promotions in secrecy and give the all-white high level supervisors who run the Intelligence Division unfettered discretion to handpick white detectives for promotions over more qualified African American detectives." They have the numbers to back it up. 
According to the filing with the federal Equal Employment Opportunity Commission, the elite Intelligence Division has 600 employees, only 35 of whom are African-American, with none ascending beyond the level of sergeant. Of 161 sergeants, 8 are African-American, while just 6 percent of the 224 detectives are black. Promotions can come with raises of up to $30,000.
"It's a shame that this has to come this, but I think it's a good way to start the police commissioner to examine this. This has been a problem for years. This is not something new," said a retired officer from the group 100 Blacks in Law Enforcement. "We want officers that are there by merit, not there because you drink beer with your supervisor or you are friends with the inspector." Black members of the Fire Department are probably nodding their heads in agreement.