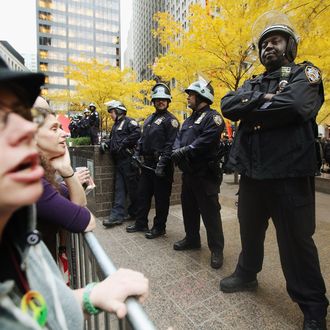 Photo: Mario Tama/2011 Getty Images
Reporters are often particularly good at giving voice to the concerns of reporters, and so the NYPD's headache about the treatment of journalists at Occupy Wall Street protests is not yet fading. Another major reason is that the police are still not following the rules. For months, those in the press have voiced complaints that their ability to cover protests, and particularly arrests, has been hindered by cops who just do not give a flying heck about credentials. Police Commissioner Ray Kelly reminded his officers weeks ago that they must "respect the public's right to know about these events and the media's right of access to report," but in practice, the relationship isn't much improved.
The New York Times reports today that "the commissioner should speak more loudly" on the issue and provides some colorful examples:
A linebacker-size officer grabbed the collar of Mr. Devereaux, who wore an ID identifying him as a reporter. The cop jammed a fist into his throat, turning Mr. Devereaux into a de facto battering ram to push back protesters.

"I yelled, 'I'm a journalist!' and he kept shoving his fist and yelling to his men, 'Push, boys!' "

Eventually, with curses and threats to arrest Mr. Devereaux, the officer relaxed his grip.

You don't have to take his word. An Associated Press photograph shows this uniformed fellow grinding a meat-hook fist into the larynx of Mr. Devereaux, who is about 5 feet 5 inches.
Back at Zuccotti Park on New Year's Eve, Times reporter Colin Moynihan was also roughed up, the paper reports. When the same park was cleared of protesters back in November, reporters were kept away from the action by the city's forces, sparking this sustained outrage into a full-blown flame.
State Senator Eric Adams, a retired police captain, asks the Times today, "Who wouldn't like unlimited power?" He added, "If the police and the mayor won't follow their own rules, whose rules will they follow?" The outraged newspaper columns, at least, can be expected to keep coming.