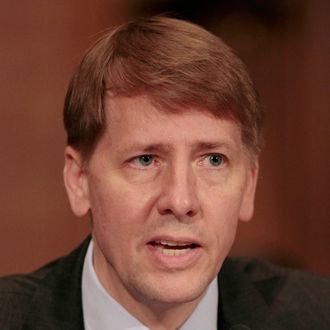 Nervous?
Photo: Chip Somodevilla/Getty Images
President Obama, who's historically been loath to ruffle feathers by making recess appointments, is ready to ruffle away: Congress is out of session, but he's set to announce the appointment of Richard Cordray as the head of the nation's new Consumer Financial Protection Bureau. The job's been open since July, when Elizabeth Warren, who helped create the bureau but probably wouldn't have made it past the Senate confirmation process unscathed, announced that she wouldn't be heading it. The Senate GOP wasn't any more favorable to Cordray, whose nomination they'd blocked; they've called the recess appointment "inappropriate," which doesn't get them terribly far.
Obama can still do it, though. The GOP might very well bring a court challenge, but that's the whole point: As the AP notes, he is "seeking to grab attention and show voters that he will advocate for the middle class no matter what the opposition. It is his most bare-knuckle initiative so far in his campaign of taking action without waiting for Congress." It's no coincidence that Obama will announce the appointment this afternoon in Cordray's home state, which also happens to be the crucial battleground state of Ohio. But it's also no coincidence that he's announcing it in the state's most Democratic district, outside Cleveland — this is a signal to the base, not swing voters. Also, in Intel Noreen's mind, it's very exciting that he's announcing it AT HER HIGH SCHOOL, but that fact is probably less significant to, um, everyone else. Still, she can say with certainty, having attended a number of dances in the very same gym where he'll be speaking, that upset middle-aged people saying things are "inappropriate" never really stopped anyone from doing what they wanted in there.