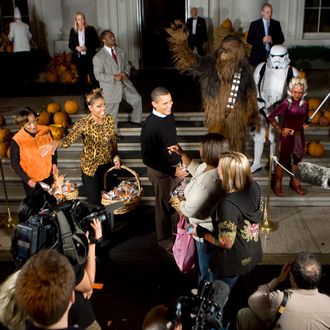 Photo: Pool/2009 Getty Images
The White House hosted a lavish Alice in Wonderland–themed Halloween costume ball in 2009, but kept the party hush-hush to avoid bad publicity during the recession, according to a new book by New York Times correspondent Jodi Kantor.

The Hollywood-style party was hosted by Johnny Depp, decorated by Tim Burton, and was attended by guests such as Chewbacca from the original Star Wars films, reports the New York Post. At a time when the economy was still in a recession and members of a certain other tea party were staging huge protests against Obama, the book asserts that the administration sought to keep the fancy shindig out of the press.



Kantor's tell-all book, The Obamas, hits shelves this week and has already made headlines for revelations about the strained relationship between Michelle Obama and former Chief of Staff Rahm Emanuel. It has also drawn criticism for the fact that neither the president nor the first lady were interviewed for it. Kantor reportedly interviewed 33 current and former staffers.
It is not clear whether she sat down with the notoriously interview-shy Chewbacca himself for the book.