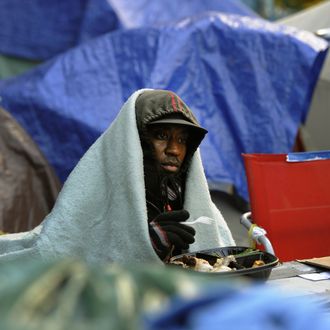 Photo: Timothy A. Clary/AFP/Getty Images
Protesters have opted to drop a lawsuit that challenged the "no camping" rules in Zuccotti Park, the spiritual and at one point physical home of the Occupy Wall Street demonstrations. Lawyers for Occupy Wall Street said the suit was superfluous after Brookfield Properties, which owns the park, removed metal barricades that lingered long after the 24-hour protesters.
"Once the barricades came down and the searches stopped and the protesters had unimpeded access to the park there seemed to be no reason to continue that litigation," said attorney Alan Levine. "If that changes we will be back in court."
The city's law department, on the other hand, said the group was right to drop the suit, "as it has no merit."
When Brookfield moved to enforce new rules that prevented protesters from staying overnight — following the city's eviction of the camp in November — a State Supreme Court judge ruled that demonstrators "have not demonstrated that they have a First Amendment right to remain in Zuccotti Park, along with their tents, structures, generators and other installations to the exclusion of the owner's reasonable rights and duties to maintain Zuccotti Park." Fiiiine, they finally said today, probably rolling their eyes.