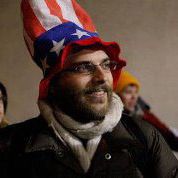 Not unlike the tea partiers before them, Occupy Wall Street protesters are attempting to move into more established political channels. Nathan Kleinman, a 29-year-old occupier from the Philadelphia chapter, plans to run for a seat in the U.S. House of Representatives in Pennsylvania's 13th district. Kleinman had previous experience as a political aide on a campaign and as a legislative assistant to a state representative before joining working groups at Occupy Philadelphia. Surely, he won't be the last one to try this leap.
"The petition gathering period starts today and lasts for three weeks, so I plan to file by then," Kleinman told Politico, announcing his intention to compete in the Democratic primary against incumbent Allyson Schwartz. Kleinman said he will run on an autonomous platform, but will "stay involved in the Occupy movement" while campaigning.
In a November interview, Kleiman toyed with the idea of Occupy candidacies:
I think how this movement exercises its power in the political arena is still very much up in the air. But I have heard a lot of ideas, there was a lot of talk about it, and I think eventually we will come to consensus on a way forward. It seems likely to me that it will attempt to influence the political process. Some people want to run candidates for Congress next year in every single district in the country. That would certainly be something I would support because I think it's not just Republicans that need to be asked, there are plenty of Democrats who could use a good challenge.
"You need 1,000 signatures and a hundred dollars," Kleinman told Politico today. "It's a pretty low bar." On his Facebook page, where he professes fandom of Pete Seeger and Bruce Springsteen, Kleinman boasts over 1,400 friends, so he should be fine.