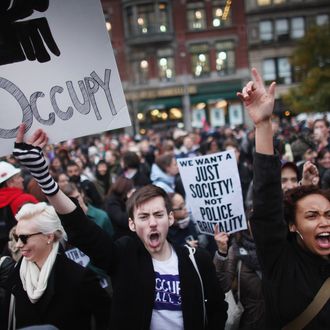 Photo: Spencer Platt/Getty Images
At the peak of the Occupy Wall Street protests back in November — when Zuccotti Park was raided by the city, thousands marched, and hundreds were arrested — the action was being chronicled live on the ground and archived by an independent website called The Other 99. The group's star at the time was Tim Pool, who streamed the demonstrations live from his cell phone to as many as 30,000 viewers simultaneously and more than 500,000 total on a busy day. As the encampment was being evicted, Pool filmed for sixteen straight hours, earning press from mainstream media outlets like Time, MSNBC, and Fast Company. With fame comes big donations, but also complications — Pool seems to be going solo and it's not pretty.
Today, the videographer posted a note on Pastebin.com, criticizing his partner at The Other 99, Henry Ferry, who Fast Company described as "a classic image of yuppie corporate America — tall and stocky, with thick brown hair parted to the side, horned-rim glasses and his ever-present necktie." Ferry reportedly had a six-figure job before the protests and never slept in Zuccotti Park.
Now Pool says he's had it with Ferry's poor work ethic and mismanagement of $37,000 in funds. After Ferry took a two-week vacation, Pool writes, "I realized that donation money would not be well spent and that I could no longer produce content for those who do not produce themselves yet consume donations. So I began streaming on TimcastTV." Ferry responded by changing the password to the group's Ustream channel and e-mail account.
The fight might sound petty and predictable, yet another casualty of slapdash organization, but between them, the livecasters have some of the most comprehensive and crucial footage of the protests, and attempts to archive it in a meaningful way have likely just begun. Should demonstrations ramp up again in the future, having eyes on the ground will again become an important (and potentially profitable) service.
But for now, it's all beef, with Pool charging Ferry with "constantly" taking time off. And Pool couldn't resist a last, loaded dig at his yuppielike ex-partner: "Not to mention all the time he has spent watching college football."
Update: Ferry has now responded, blaming Pool for becoming a greedy diva. He writes on The Other 99:
As of this writing, [Pool] is pursuing an exclusive contract with a live streaming service where he bluntly told me his "minimum" compensation should be $156,000. Though he did not ask us for this amount, our team would not be able to afford to pay him this sum. Along with a personal twitter account and website, he also can be reached through a booking agent for paid appearances. All of these ventures fell outside of The Other 99, which is the leading reason for his departure.