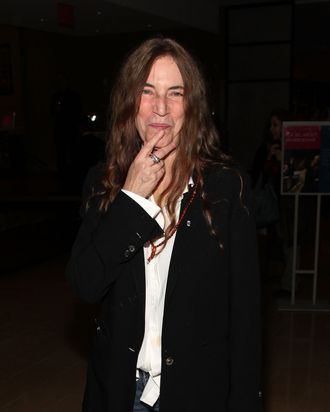 Patti Smith
Photo: Taylor Hill/FilmMagic
After she'd come under heavy fire from the residents of the Chelsea Hotel for putting on a concert in conjunction with its new, much-despised management, Patti Smith has backed down. Yesterday, she defended her decision to put on the show, but last evening, she decided to cancel at the last minute. "My motivation was solely to serve the tenants. If this serves them better, then I am satisfied," Smith wrote on her website. Still, the long-time residents aren't satisfied, explains Gothamist.
"She really wasn't doing it for the residents. She's aligned with the people who are trying to evict the tenants," stated a 16-year resident. An apt argument, as Smith had performed for both the family and friends of the developer as well as, allegedly, potential investors the night prior. Despite her insistence that she is not being remunerated for her involvement, we're hard pressed to understand Smith's motives. The resident we spoke to, who also happens to live on the same floor as Patti Smith's old room (204, if you're wondering), offered a theory: "Her room has remained completely intact, as a shrine to her career, while all the other rooms have been demolished."
So they've come up with conspiracy theories to explain the whole thing — like true heirs to the sixties.