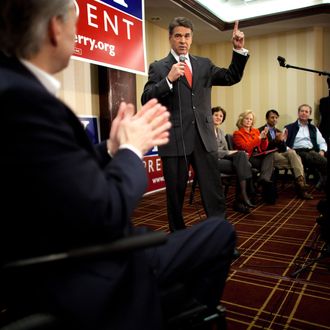 There was a third battle that Perry wanted to mention, but he forgot. #oldjokes
Photo: Jonathan Gibby/Getty Images
With just hours to go before a 100,000 or so Iowans take a rare, brief break from picking/eating corn to participate in the Iowa caucuses, Rick Perry tried, in a West Des Moines hotel today, to fire up his campaign volunteers. This is no easy task. Here's a man who may very well be remembered as the single worst presidential candidate ever — someone who entered the race with stratospheric expectations and now hopes for, at best, a fourth place finish in the Iowa caucuses, followed by maybe a fifth place finish in New Hampshire, if he's lucky. How do you get a volunteer excited about that? Maybe … compare the effort to oust President Obama to D-Day and the American Revolution?
"This election is about stopping a president of the United States and his administration that is abusing the Constitution of this country, that is putting America on a track to bankruptcy," Perry told a hotel ballroom packed with more than 200 volunteers.

"It is a powerful moment in Americans' history, and you are on the front lines," he added. "This is Concord. This is Omaha Beach. This is going up the hill realizing that the battle is worth winning."
Unfortunately for Perry's "soldiers," this battle is probably going to more closely resemble Custer's Last Stand.