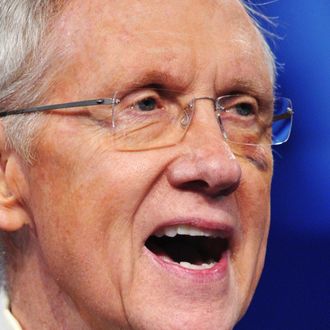 Photo: MANDEL NGAN/2011 AFP
Senate Majority Leader Harry Reid announced today that he is postponing a vote planned for Tuesday, January 24, on the controversial Protect IP Act, one of the targets of Wednesday's Internet-based protests. Reid's statement gives some credit to this week's action, beginning, "In light of recent events," and goes on to say, "There is no reason that the legitimate issues raised by many about this bill cannot be resolved." The anti-piracy legislation, which corresponds with the Stop Online Piracy Act in the House of Representatives, is sponsored by Vermont's senator, Pat Leahy. "I encourage him to continue engaging with all stakeholders to forge a balance between protecting Americans' intellectual property, and maintaining openness and innovation on the internet," said Reid. Wednesday's outcry against SOPA and PIPA took down support in Congress for the legislation, from 80 lawmakers to 63, while opponents went from 31 members to 122, according to ProPublica.
Update: Rep. Darrell Issa tweets to add that SOPA has been officially postponed by House Judiciary Chairman Lamar Smith, the bill's lead sponsor, who has opted to delay next month's planned markup hearing on the legislation indefinitely.