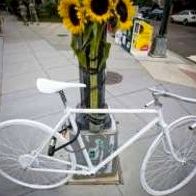 A ghost bike in the posting.
Someone attempted to sell memorial "ghost bikes" on Craigslist, but it's unclear if this individual was trying to get a rise out of bikers and people who possess a moral conscience (in which case, you won!), or if this person is just shockingly dim-witted.
Gothamist received a tip today concerning an entry in Brooklyn's for sale section titled "White Painted Bike Collection," in which a seller (or faux-seller) offered one or an entire collection of 30 ghost bikes. For the uninitiated, ghost bikes are all-white rides left near crash sites where a bicyclist was killed or injured. They often contain a plaque with the person's name. The Craigslist posting, which has been flagged for removal, read in part: "Over the past few months I noticed a great deal of abandoned bikes all over Brooklyn and Manhattan. What is unique about my finds is every bike is painted all white. Tires too!"
The posting smacks of insincerity or feigned ignorance and in all likelihood is a sick joke. But the fact is, the defunct listing contained images of two real ghost bike memorials. If the posting was a gag, it was some combination of sad, obnoxious, and revolting.